Yaron Cherniak ירון צ׳רניאק Biography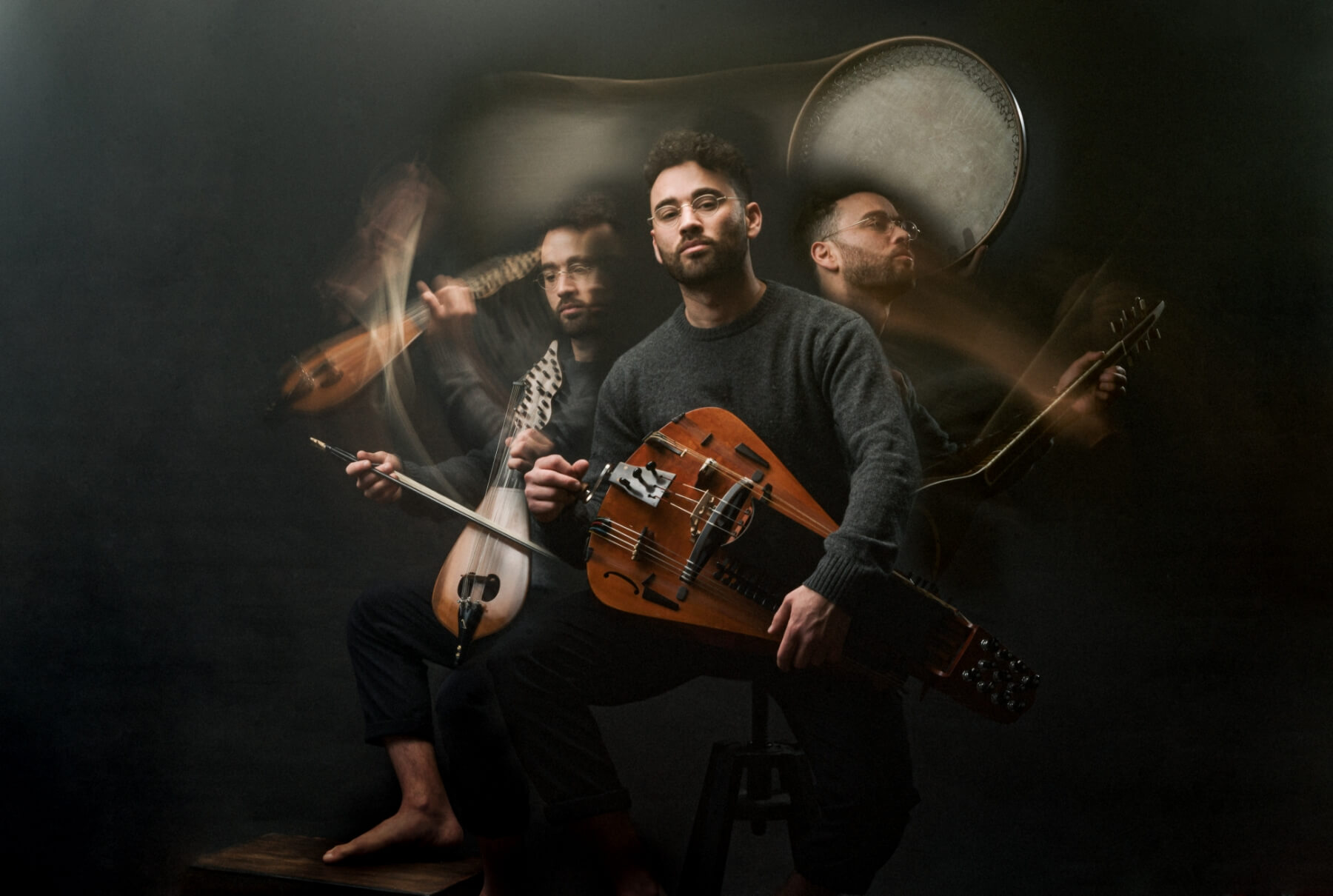 Yaron Cherniak is a Jerusalem-based performer, composer, and Musicologist. He is known as a multi-instrumentalist playing the Persian Tar, Turkish Saz, Cretan Lyra, Hurdy Gurdy and more. His areas of research as a musicologist is in various ancient music cultures such as Persian, Kurdish and Jewish traditional genres.
Yaron, a son of Jewish parents from Turkmenistan and Moldava, was exposed to the rich variety within sacred Jewish music. In his composition songs in Hebrew, such as "Psalm 150", "Harninu", "Ya Shema" and "Psalm 6" among others, he is using the Maqam system, a micro-tonal music system which is fairly common in the Middle-East. His goal is to write music that preserves the classic forms of a verity of ethnic music cultures, using these forms within the context of Worship to bring listeners to the place of awe and adherence to God.
Yaron's interest in preserving micro-tonality intensified over the years, prompting him to move to Europe where he studied classical Persian music with a Persian tar player who had immigrated from Iran at the outset of the demonstrations in 2009. During this time he learned first-hand about the long struggle for human rights and freedom taking place in Iran.
He studied Persian Radif using the Perisan Tar from Hamid Khabbazi in Barcelona, and Mr. Hossein Alizadeh and Sahba Motallebi in California. He also studied Cretan Lyra with Kelly Thoma and Aris Kornelakis on the island of Crete and Hurdy Gurdy with Tobie Miller in Basel.
Yaron completed a B.A. in Music at the Jerusalem Academy of Music. Studying in the Department of Cross-Disciplinary Music, training in writing and performance of Arabic, Turkish, and Contemporary Western music. These studies immersed him in a trans-cultural environment that celebrated musical diversity and vibrant artistic collaborations. After completing his studies, he created and directed the Persian music ensemble "Tolu," and joined the Israeli band "Miqedem" as a songwriter and multi-instrumentalist. Miqedem won international recognition, leading to performances across Europe, Scandinavia and North America. They released 3 Albums; "Miqedem"(2016), "Vol.II"(2018) and the third album "Eshkona"(2023). Yaron's solo career has consisted of playing worldwide with the Kristoforo Kamerinis Orkestras in Lithuania, the AUKSO Orchestra and Autumn Quartet in Poland as well as performing along side with leading singers from Israel, United States, Poland and more. Yaron Cherniak released singles such as "Ya Shema", "Coming back to you", "Tshuva", "Anticipation", "Imshe Nafshi" and is currently working on his on solo album. Presently, Yaron is the musical director of the Persian classical music ensembles at the Academy of Eastern Music in Jerusalem.
Yaron completed a M.A. in Musicology at the Hebrew University of Jerusalem. His aim is to develop skills as a researcher and harness them towards researching the interplay of cognition, historiography, anthropology and musical analysis. Professors such as Edwin Seroussi and Ruth HaCohen Pinczower heavily influenced him to investigate the semiotic dimension of music and ontological meaning carried within music. To investigate how this is seen in real time and history, Yaron conducted his master's thesis on the works of Iranian composer Mohammad Reza Shajarian, who created a subversive musical canvas during a time of persecution and oppression. Here, he researched conceptual fields of classical Persian works in their semiotic-sonic contexts.
Yaron's interest in the world of research comes not only from a desire to go deeper in understanding the music which he performs, but also to preserve and safeguard musical cultures in our post-traditional world. In the year 2021, Yaron established "Morasha" (Hebrew for "Heritage"). This organization gives financial and technical help to artists and composers belonging to minority groups suffering from oppression and persecution. The organization's most recent project, "God Of Love," gave the stage to an Iranian woman who was interrogated and tracked by the Iranian regime after receiving the Christian faith. The project presents the poetic text of Nafas Zendegani (pseudonym) that Yaron composed.
Yaron plays the
Persian Tār
Shourangiz
Cretan Lyra with sympathetic strings
Hurdy Gurdy
Saz / Bağlama
Read more and listen to the beauty of the instruments below.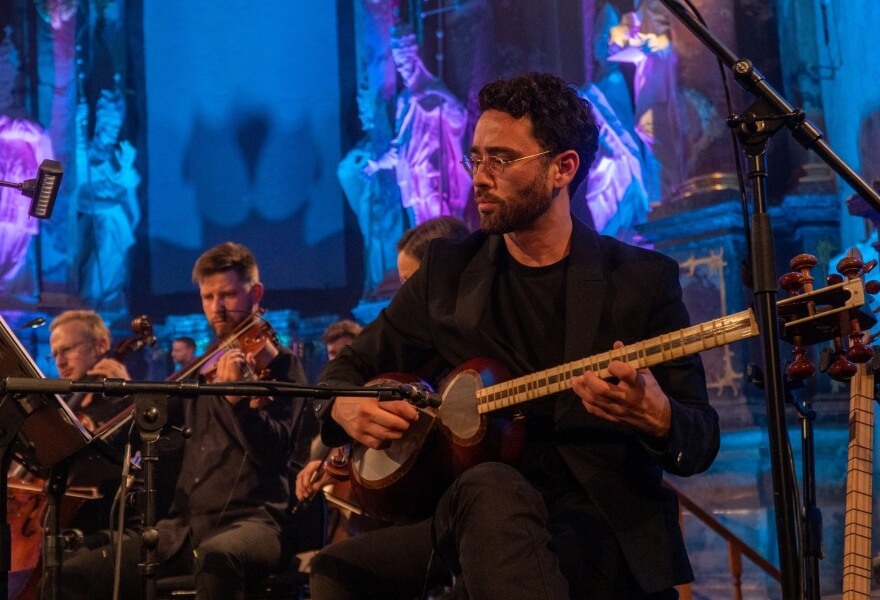 The Shurāngiz (شورانگیز, meaning tumult-exciting) is a Persian musical instrument, based on the Setar, developed in the 20th century. It has a unique sound table consisting of a wooden panel suspended in the center of a membranous outer section, three double courses of strings (sometimes four strings only), a longer finer fingerboard and increased number of frets comparing with its original prototype Setar.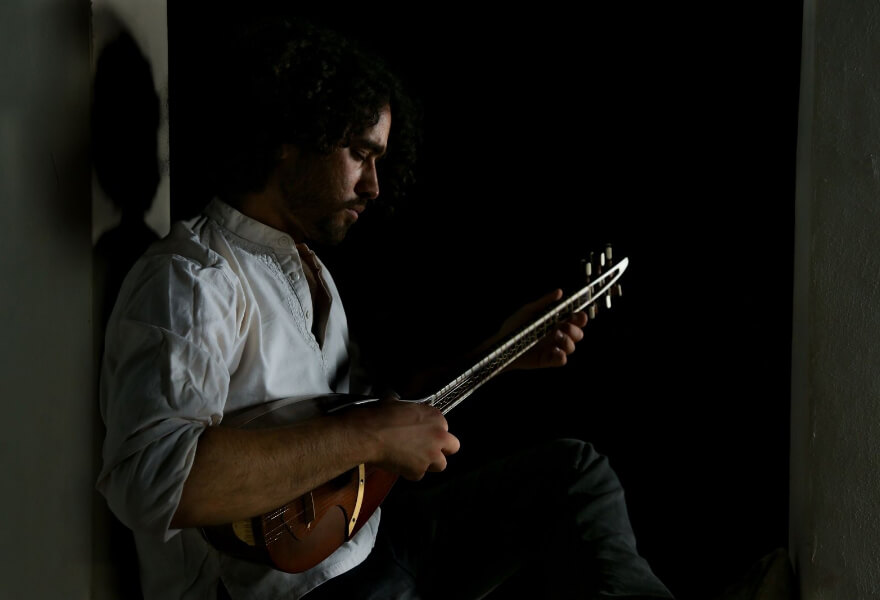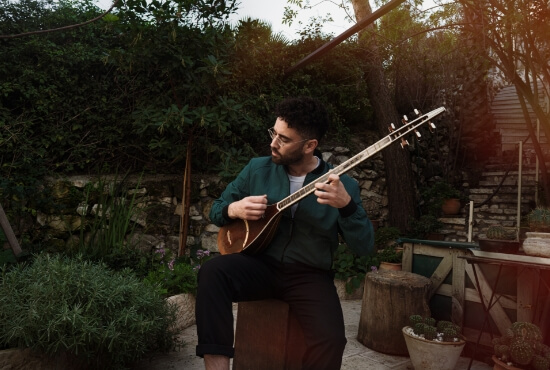 Cretan Lyra with sympathetic strings
The main instrument of Cretan Music is the Cretan Lyra, a small three stringed fiddle held upright on the knee, bowed horizontally with a Lyra bow. The Lyras are made using mulberry or maple wood for the body and cedar of Lebanon for the soundboard. In our days, due to collaborations of Ross Daly and different luthiers over the years, a new version of the Cretan Lyra has evolved – a Lyra with sympathetic strings. One type contains 12 sympathetic strings, a medium type with 17 sympathetic strings and other types.
The hurdy-gurdy carries different names such as organistrum, symphonia (in Spain), chifonie, organica lyra, vielle à roue (In France); 'wheel fiddle'). The Gurdy is a musical instrument with a droning sound played by turning a handle, which is typically attached to a rosined wheel sounding a series of drone strings, with keys worked by the left hand. A portable medieval string instrument, dating in Europe from the 9th century. First sting instrument to which keyboard principle was applied. Originally required 2 players, but during the 13th century improvements enabled solo performances.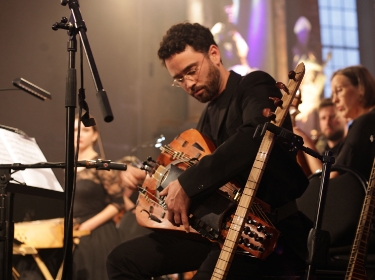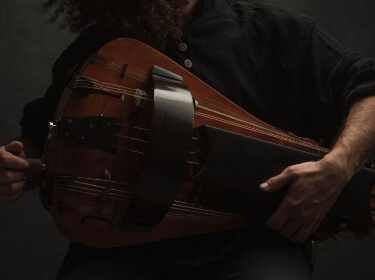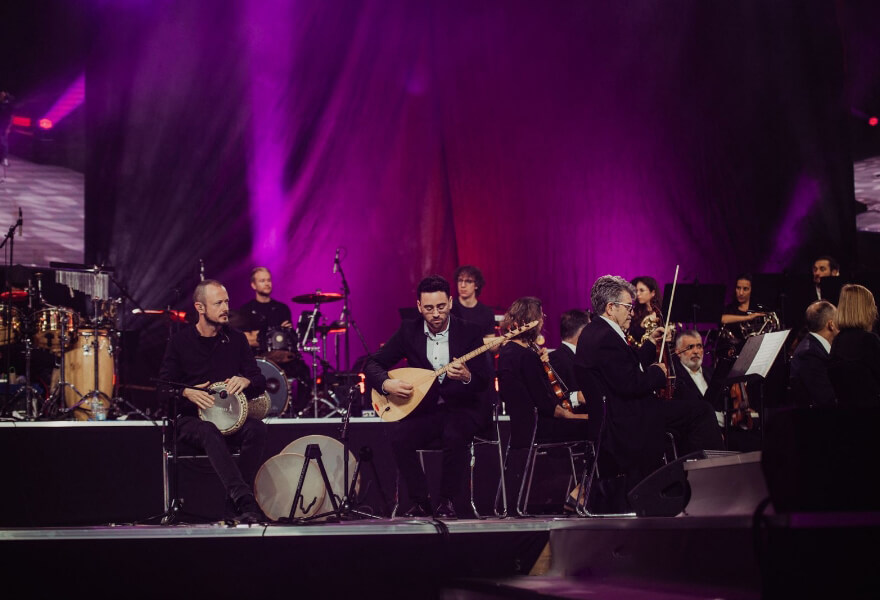 The baglama, Turkey's national folk instrument, is a symbol of a Central Asian Turkic past as well as a Turkish present that identifies strongly with the expressive culture of the rural populace. The baglama family of long-necked, fretted, bowl shape lutes consists of instruments ranging in size from small (cura) and medium (tanbura) to the larger (baglama) or Divan and Uzun sazi that often function like a string bass in ensembles, and is the preferred instrument of many north-eastern Anatolian minstrels.